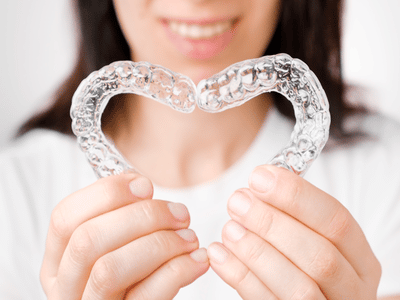 Invisalign is a type of orthodontic treatment that uses clear, removable aligners to straighten teeth. Unlike traditional braces, Invisalign aligners are nearly invisible, so they are much less noticeable when you wear them. Invisalign treatment is custom-designed for each patient, so the aligners are precisely engineered to move your teeth into the correct position. Invisalign is an excellent choice for both adults and teens who want to straighten their teeth without wearing conspicuous braces. Learn more about Invisalign from Dr. James DonagheyandDr. Steven Oliver at Donaghey Orthodontics.
In This Post, We'll Cover
What is an Invisalign Aligner?

Invisalign Treatment 

What is SmartForce?

What Can Invisalign Fix?
What is an Invisalign Aligner?
Aligners are clear plastic trays customized to fit each patient. Through 3D printing and imaging technology, Invisalign allows your orthodontist to craft a step-by-step process to adjust your teeth. Invisalign uses a special digital scanner called the iTero system.  The iTero system is used to digitally image your teeth. iTero gives your orthodontist a 3D picture that accurately represents your mouth, with no impressions needed. 
The aligners themselves are made from a sophisticated thermoplastic. This flexible but strong material allows for seamless comfort in the aligner's fit and treatment. Aligners are 3D printed and modeled to each patient's teeth, gums, and jaw individually. The thermoplastic SmartTrack material is crafted to allow your treatment to be customized. 
Invisalign Treatment 
Invisalign treatment begins with a consultation from your Invisalign-trained orthodontist. Treatment starts with the creation of a step-by-step treatment plan for you to follow. You should start to see improvement within a couple of weeks thanks to Invisalign's fast-acting technology and quick results. Sets of aligners switch every one to two weeks and gradual change will occur soon after you begin. Some Invisalign treatments can take as little as six months to complete!
During treatment, you'll see your orthodontists regularly just like with traditional braces. Your orthodontist's expertise ensures you are getting the best possible care throughout treatment. There are numerous benefits to straightening your smile with Invisalign. Invisalign is very discreet, aligners are clear, so Invisalign is hard to see in your mouth. Invisalign is also removable, which means your brushing and flossing habits don't have to change. Invisalign also has none of the food-based restrictions of traditional braces.
What is SmartForce?
You might hear the word SmartForce when your orthodontist outlines your treatment plan. Some treatment plans with Invisalign include SmartForce, small tooth-colored handles for aligners to rest on. They are unnoticeable and through their invention, Invisalign can tackle complex orthodontic movement. SmartForce essentially gives aligners guidance to ensure the correct amount of force is applied in the correct direction during treatment.
What Can Invisalign Fix?
Contrary to popular belief, Invisalign can help with most orthodontic issues. The most common are overbites, underbites, crossbites, crowding, gap teeth, and general straightening. Your orthodontist is highly qualified to recommend and explain the best course of treatment for you and your mouth!