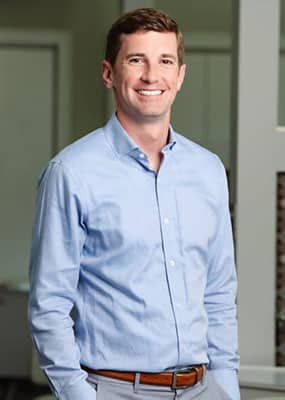 Dr. Steven Oliver joins Donaghey Orthodontics with several years of general dentistry experience and orthodontics specialization from The University of North Carolina Chapel Hill, recognized as one of our specialty's most outstanding graduate programs. Steven, his wife Louise Crow, and their growing family are thrilled to be settling back on the Gulf Coast where Louise grew up. 
Steven was raised in Hendersonville, Tennessee, and attended The University of Alabama where he developed a passion for service leadership while serving as president of the student government association, representing the campus's 28,000 students. 
During dental school at the University of Alabama at Birmingham (UAB), Steven led the American Student Dental Association UAB chapter as president and was selected for the U.S. Air Force Health Professions Scholarship Program. 
His Air Force commitment included pursuing an Advanced Education in General Dentistry residency at the U.S. Air Force Academy, where he was able to enjoy weekends hiking Pikes Peak and snow skiing in the Rockies. Steven was selected to move overseas to Aviano Air Base Italy, where he served as a captain in the dental corps supporting its active duty military community. 
After exploring Europe with his wife Louise and wrapping up several years of general dentistry practice, Dr. Oliver was selected to attend the Orthodontics Program at The University of North Carolina at Chapel Hill. UNC is a global leader in orthodontic education and care with extensive training in Invisalign, traditional braces and orthognathic (jaw) surgery. Dr. Oliver also spent time during his residency treating craniofacial (cleft lip/palate) patients. 
Dr. Oliver has always had a passion for service, which is why Dr. Oliver chose to serve our country with service in the U.S. Air Force. Even though Dr. Oliver has completed his active-duty service, he continues to serve as a Major in the Air Force Reserves. He spends time once a month doing dental exams for our reserve military members. 
Outside of the office Dr. Oliver and his wife Louise love spending time with their two children, Andrew and Coleman, and traveling to visit their cousins in Nashville. They enjoy hiking, skiing and experiencing sunsets on Mobile Bay with their extended family across the Gulf Coast.