To Our Oyster Orthodontics Family,
As we prepare for our next chapter of growth, I am thrilled to welcome Dr. Steven Oliver as an associate to our orthodontic practice this summer.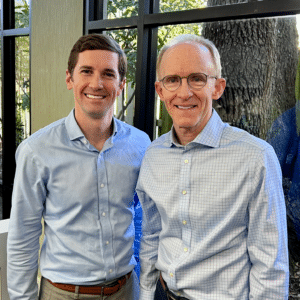 Dr. Steven Oliver joins Oyster Orthodontics after serving several years as a general dentist in the U.S. Air Force and receiving his specialty orthodontics training at The University of North Carolina in Chapel Hill, recognized as one of our specialty's most outstanding graduate programs. Steven, his wife Louise Crow, and their growing family are excited to be settling back where Louise grew up and her extended family resides.
Steven is no stranger to Mobile – having spent almost half of his life connected to Alabama. Many of his weekends and summers have been spent on the Gulf Coast, and Dr. Oliver and Louise were even married years ago under a Mobile Bay sunset.
For more than 35 years, Oyster Orthodontics has been proudly serving the Mobile and Chatom areas as a premier choice for orthodontic care. I am excited to continue this tradition with Dr. Oliver, and I feel confident the next chapter of Oyster Orthodontics will be our greatest yet.
I have waited for the right person to come along and thoughtfully selected Dr. Oliver to join our team because of his extensive background in general dentistry and top-notch orthodontic training from UNC-Chapel Hill. Our practice values and treatment philosophies align and we are committed to providing a personalized care experience that our patients have trusted for the past 35 years.
Please join us in welcoming Dr. Oliver on social media and learn on our website where more about Steven will be added over the coming weeks. Our team looks forward to delivering the same level of service you have come to trust as we help you achieve a smile you can be proud of.
Your Smile. Our Passion. One Goal.
Thanks for your continued support.
James B. Donaghey II, DMD, MS